[+] Novo set
Por thBlink 13/05 19:17
Numbers Hunters Booster Set
Data de Lançamento: 12 de Julho de 2013
x O set possui 60 Cartas, 50 Novas Cartas e mais 10 re-lançadas pela primeira vez!
x 25 Novos monstros Xyz!
x 6 Novos monstros Chaos Xyz - combinadas com as novas magias: "Rank-Up Magic" obtidas em Lord of the Tachyon Galaxy.
x Novas Cartas para decks "Chronomaly" e "Heroic Changer"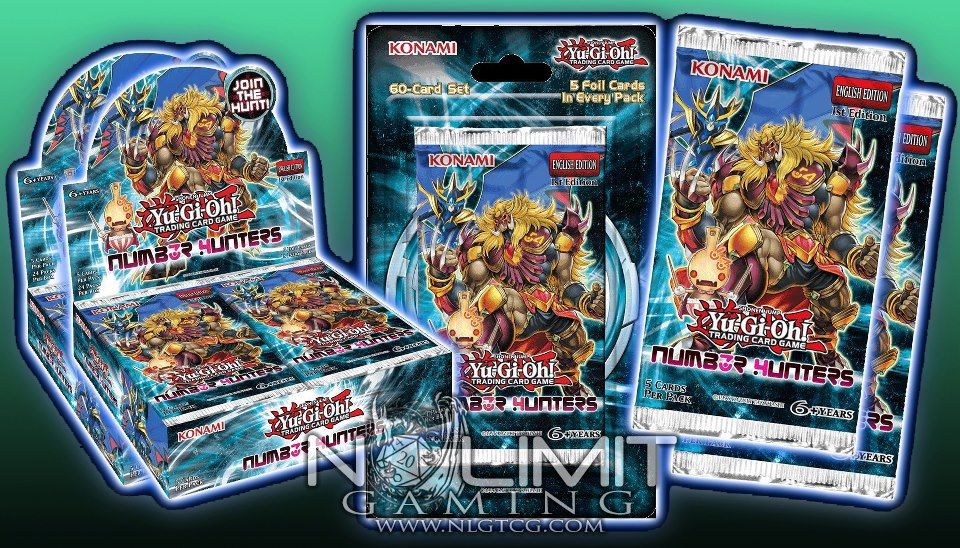 Card Spoiler:
NUMH-EN001 Chronomaly Aztec Mask Golem
NUMH-EN002 Chronomaly Cabrera Trebuchet
NUMH-EN003 Chronomaly Mud Golem
NUMH-EN004 Chronomaly Sol Monolith
NUMH-EN005 Gimmick Puppet Egg Head
NUMH-EN006 Gimmick Puppet Gear Changer
NUMH-EN007 Gimmick Puppet Twilight Joker
NUMH-EN008 Gimmick Puppet Scissor Arms
NUMH-EN009 Gimmick Puppet Nightmare
NUMH-EN010 Heroic Challenger – ???
NUMH-EN011 Heroic Challenger – Clasp Sword
NUMH-EN012
NUMH-EN013
NUMH-EN014
NUMH-EN015
NUMH-EN016
NUMH-EN017
NUMH-EN018
NUMH-EN019
NUMH-EN020
NUMH-EN021
NUMH-EN022
NUMH-EN023
NUMH-EN024
NUMH-EN025
NUMH-EN026 Number 54: Lion Heart
NUMH-EN027 Number 15: Gimmick Puppet Giant Grinder
NUMH-EN028 Number 44: Sky Pegasus
NUMH-EN029 Number 49: Fortune Tune
NUMH-EN030 Number 57: Tri-Head Dust Dragon
NUMH-EN031 Number 63: Shamoji Soldier
NUMH-EN032 Number 74: Master of Blades
NUMH-EN033 Number 85: Crazy Box
NUMH-EN034 Number 87: Queen of the Night
NUMH-EN035 Mechquipped Angineer
NUMH-EN036 CXyz Mechquipped Djinn Angeneral
NUMH-EN037 Coach King Giantrainer
NUMH-EN038 CXyz Coach Lord Ultimatrainer
NUMH-EN039 Norito the Moral Leader
NUMH-EN040 CXyz Simon the Great Moral Leader
NUMH-EN041 Comics Hero King Arthur
NUMH-EN042 CXyz Comics Hero Legend Arthur
NUMH-EN043 Battlecruiser Dianthus
NUMH-EN044 CXyz Battleship Cherry Blossom
NUMH-EN045 Skypalace Gangaridai
NUMH-EN046 CXyz Skypalace Babylon
NUMH-EN047
NUMH-EN048
NUMH-EN049
NUMH-EN050
NUMH-EN051
NUMH-EN052
NUMH-EN053
NUMH-EN054
NUMH-EN055
NUMH-EN056
NUMH-EN057
NUMH-EN058 Number Wall
NUMH-EN059
NUMH-EN060